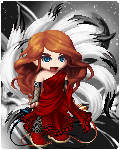 Midori Matsumoto
is a major supporting character and eventually the main heroine in the manga/anime series,
Dragoon!
. She is the wealthy princess hailed from the City of Atlantis. Midori's family ruled over the city of Atlantis, with her as their only heiress. However, after what appeared to be an accident, Midori's parents were killed, leaving her under the care of her butler,
Ronan Ishigaku
. Midori's new life forced her to grow up believing that anybody with less wealth than herself should be deemed as "trash" or outcasts to society. However, this all changed when Midori eventually comes into contact with
Ginta Typhoon
, of the
Spirit Chi Warriors
. Although initially on bad terms with him, her interest in Ginta as an adventure-seeking young boy, and martial artist slowly, but gradually causes her to fall in love with him. Her deep fondness for him is expressed mainly in the form of always wanting Ginta to fight at his best, so that he can surpass his own limitations. At the end of the series, the two successfully get married, naming their son,
Kale Typhoon
. Midori is known as the most powerful female character in the series.
Debut
Anime
Dragoon! Episode #N/a
Movie
Dragoon: N/a
Appears in
Manga, Anime, Movies
Personal
Birthdate
July 4, 1961
Gender
Female
Age

Pre-Era: 13-14
Post-Era: 14-15
EoS: 18

Classification
Affiliation
Elemental Release
Thousand Release
Spirit Beast
Shintail
Academy Grad. Age
13

Family




Atticus Bakura (Father-in law)
Rose Typhoon (Mother-in law)
Unamed Parents
Ginta Typhoon (Spouse)
Kale Typhoon (Son)
Ronan Ishigaku (Guardian)

Quote

"I hail from the city of Atlantis!"
Personality
Edit
Appearance
Edit
Background Information
Edit
Rare HuntersEdit
Sermon LeagueEdit
Crystal GenesisEdit
Battle TestimonyEdit
Dawn of the DragonsEdit
Carnage of EvilEdit
Powers and Abilities
Edit
Fighting Style
Edit
Quickplay:Edit
Abilities
Edit
Thousand Manipulation:
Soul De-construction:
Techniques
Edit
Community content is available under
CC-BY-SA
unless otherwise noted.