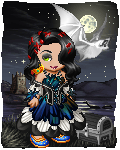 Katsuragi Calypso
, commonly referred to as
Calypso
, was the main antagonist of the
Shadow RPG Saga
in
Dark Game!
, and a major supporting character in the manga/anime,
Dragoon!
. Initially a villain, Calypso's goal was to murder
Ginta Typhoon
and his friends under the assumption that they would not be able to overcome any of the future obstacles that come in their way. However, after her defeat, she reveals to Ginta at the beginning of the second series, that it was simply a test for him to see if he was at a level required to take on the next level. She is an old oracle who knows of every single event that ever occurred in history. She usually supports the heroes by giving them info of any upcoming dangers, and how they should take about in stopping them, usually ending up being right. She has stated that her favorite/greatest comrade and student is Ginta Typhoon. She is one of the many mentors of Ginta throughout the series, always keeping an eye on his progression as a martial artist, admiring his determination and goal to balance out peace and justice throughout the world. She also is the one who tends to inform Ginta about the connections of his ancient past.
Debut
Anime
DG! Episode #N/a
Movie
Dragoon: N/a
Appears in
Manga, Anime, Movies
Personal
Birthdate
January 15
Gender
Female
Age
Classification
Affiliation
Elemental Release
Spirit Release
Spirit Beast
Wing
Academy Grad. Age
Over 7000

Family




The Nameless Pharaoh (Pharaoh)
Ra (Former Pharaoh)
Ginta Typhoon (Student)

Quote

"What does it mean to attain freedom?"
Personality
Edit
Appearance
Edit
Background Information
Edit
Dark Game!
Edit
Dragon RidersEdit
Rare HuntersEdit
Sermon LeagueEdit
Crystal GenesisEdit
Battle TestimonyEdit
Dawn of the DragonsEdit
Carnage of EvilEdit
Powers and Abilities
Edit
Fighting Style
Edit
Observant:Edit
Abilities
Edit
Spirit Manipulation:
Mind-Reader:
Techniques
Edit
Community content is available under
CC-BY-SA
unless otherwise noted.